Divina Home Set (Divina Perfumed Candle, 290 gr + Divina Home Aroma Diffuser, 250 ml)
The Divina Home aromatic set is ideal for creating a warm and cozy atmosphere at home. A candle and diffuser will fill your space with a sophisticated niche scent. Divina candle is a floral-woody composition with top notes of rose and wine leaves, complemented by jasmine, lily of the valley and currant. Green freshness gives way to sweet-tart vanilla and earthy oakmoss.
The DiVina Terra perfumed candle made of natural paraffin with the highest quality essences will not only fill the house with elegant compositions, but also purify the air by filling it with negative ions. The Divina diffuser is a combination of selective fragrance and modern technology to create the perfect fragrance for your home. The composition of the liquid is designed in such a way as to preserve the aroma for as long as possible. The set is sold in a handmade wooden box. Ideal for a gift
Divina Home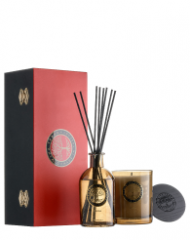 EXTRAIT DE PARFUM 100 ml
Notes on the fragrance:
Bergamot, rose, cranesbill, jasmine.
Amber, iris, heliotrope, agarwood.